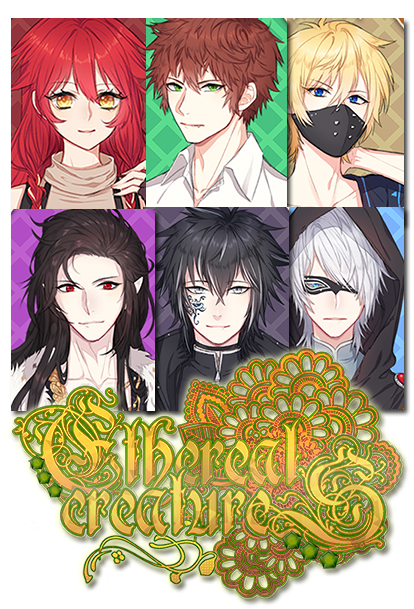 Ethereal Creatures
A downloadable game for Windows and macOS
Basic Info

The story will have a common route then branch off into 5 acts for each character other than the bad end for the brothers. Once all good ends for characters have been obtained then L's route will be unlocked.

Category: Otome, Visual Novel
Commercial or Free? Free.
Platform: PC. Windows / Mac / Linux.
Language: English.
Resolution: 1280x720
Endings: 12 endings
Genre: Romance, Supernatural, Drama
Ratings: 18+

Inspired by Mercedes Thompson series

The prophets of time have foretold that humans will one day take the reign over the world. It struck fear among many; harmony within the races collapsed. It stained the world with human blood until almost none was left. The existence of humans linger every now and then but the word is merely of the distant past.

Set in a modern yet futuristic world where humans cease to exist, supernatural beings have taken control over the world. Crime and death occur as a natural phenomenon. Tensions between races are rising to the point where war can wage at anytime. The system is corrupt and a dark force threatens to tear apart all races.

Play as Anika and determine the fate of the supernatural world.
Follow us on tumblr or lemmasoft !
Support us on kickstarter in March 2017!

contact: glassheart.studio.vn@gmail.com
Comments
Log in with your itch.io account to leave a comment.
Hi, I recently made a let's play of the game because those anime dudes looked way too good not to romance! Anyway, here's the link, and I can't wait to finish the rest of the demo and see what the game's about.